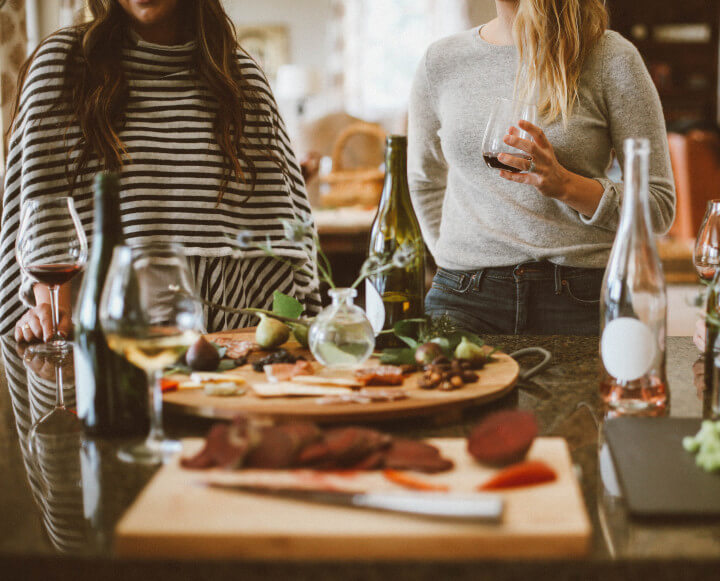 Restaurants in Villach - our recommendation
Villach has a lot to offer in terms of cuisine. The offerings range from hip bars to regional markets to exclusive restaurants. Stroll into cosy cafés, feast on traditional Carinthian cuisine in homely inns or sip exotic cocktails along the Drau. For gourmets, Villach leaves nothing to be desired.
The starting point of the pleasure trip is your exclusive flat in the centre of Villach. From here, you have the possibility to stop off at the countless surrounding cafés, restaurants or inns comfortably on foot. Hobby chefs will find a large selection of supermarkets or organic markets nearby, which are also easy and quick to reach without a car.
Culinary offers in Villach
Fresh pastries from a Villach bakery, regional delicacies from the Villach weekly market, delicious organic products from the surrounding farmers or simply shopping at one of the many supermarkets nearby - self-caterers are spoilt for choice. Our guests will find everything they need for cooking in the fully equipped flats. From pots and pans to baking paper and kitchen roll to salt and pepper, everything necessary is included.
Eaters out can indulge in culinary delights in Villach's city centre. No matter whether you prefer to go to a fast food restaurant, visit a traditional inn or order from a delivery service: The culinary scene in Villach offers everything your heart desires and will delight you.
Regional farmers' markets
Regional delicacies such as fresh farmhouse bread, bacon or homemade Carinthian Kasnudeln can be found at the Organic farmers' market at Hans-Gasser-Platz. This takes place every Friday between 09:00 and 15:00. There is also a large weekly market with organic products twice a week, on Wednesdays and Saturdays, at Burgplatz on Draulände.
You can also stroll, eat and shop to your heart's content at the Faak farmers' market. You should not miss this popular meeting place for young and old! Centrally located in the market area of Faak am See, the many market stalls are visited by countless holidaymakers and locals every Thursday from May to September.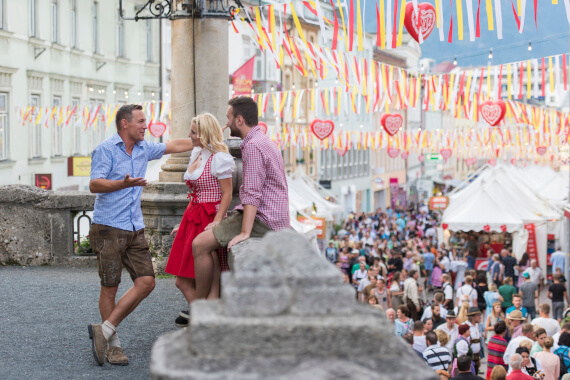 International cuisine around Villach
Due to our unique geographical location, you can reach Italy and Slovenia after a short drive. There you can let yourself be enchanted by the typical dishes of the country. Whether it's delicious Italian prosciutto or Slovenian fish delicacies - whatever you choose, you'll definitely be wrapped around the culinary finger!
The inns in Villach and the surrounding area have a huge selection of Austrian and Carinthian dishes. From juicy Wiener Schnitzel to hearty Kässpätzle and the legendary Carinthian Kasnudeln, the range of our regional cuisine is consistently impressive.
 The culinary delights are rounded off by a rustic ambience and warm hospitality. In summer, you can enjoy your snack outside in the numerous guest gardens or directly at one of the adjacent lakes.
You don't always feel like going out for a fancy meal. Especially not when your own flat is as cosy and modern as the one in the "Apart of me" flats. You can order food from the comfort of your accommodation. From Italian to Chinese, from Mexican to Austrian - the choice is wide.
Make your flat your oasis of well-being and benefit from all the comforts that your temporary home has to offer. Order conveniently via the usual delivery service providers such as Myam or Deliveryando and a short time later you are holding your food in your hands.